Debian on my Beige G3
OK, I got Debian GNU/Linux on my desktop Power Macintosh G3 "Beige" BUT, to do this I bought MacOS 9 CD for 20 dollars on ebay: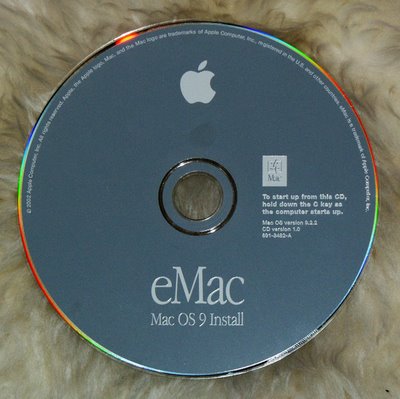 Because I broke pre-installed MacOS by trying to install Debian on this "OldWorld" mac (see here). So, after installing MacOS 9 back I again tried to install Debian (using BootX 1.2.2 from MacOS). After a number of tries of reinstallation of both I realized that MacOS 9 and Debian CAN'T live on the same hard-drive, because they are breaking partition table for each other…
So I'd decided to go to ebay again – now for SCSI drive. 18 GB IBM SCSI drive (1997) with 50-pin adapter was just 30 dollars plus 4 for cable and 11 for shipping.
Important things about installation on Beige G3:
it will fail to detect printer, simply go back to menu and choose installation again;
bootloader

quik

requires ext2 partition for /boot (even if it's not needed – I pressed NO later to disable bootloader installation);
it is important to save vmlinux and initrd.img on ZIP-drive before reboot – we will need it in MacOS for BootX loader – so go to shell and do

chroot /target

then

mount /dev/hdd4 /mnt

then

cd /boot

then

cp vmlinux /mnt

and

cp initrd.img /mnt

then

umount /mnt

then

exit

and

exit

to go to menu back;
then just finish installation process.
So now I have MacOS 9.2.2 on EIDE hard-drive and GNU/Linux on SCSI hard-drive – separately they work fine. After boot computer goes to MacOS first and then using BootX loader I can choose to go to Linux (copy vmlinux and initrd.img to Linux Kernels first).
Inside Linux I traditionally have Russian user interface: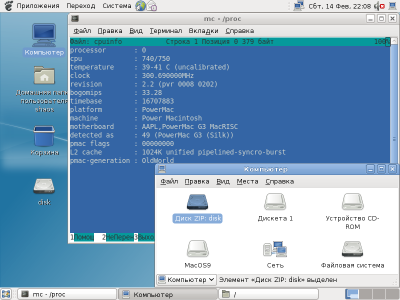 P.S. After installation of Debian 4.0r7 from NetInst CD I found that during installation it's magically transformed to Debian 5.0 "Lenny" that was released just now

P.P.S. So if you need cheap PowerPC machine for Linux, DON'T buy Beige G3! Better choice is Blue&White PowerMac G3 that can be bought just for $9.99 (plus $32.50 for shipping) in some places (300 MHz, 64 MB RAM, no HDD) – see here story how I got it